Relaxing sleep and an enjoyable breakfast
The rooms are comfortably furnished in Tyrolean style with a TV and free Wi-Fi. Some also have a shower / WC and a balcony.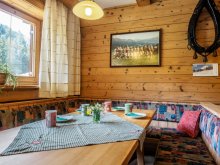 Every one of the marvellous days spent on holiday at Petererhof Farm begins with a substantial breakfast on the sun terrace or in the lounge.
With a bit of luck, you can see a baby deer in the nearby forest, peeping out curiously from behind a tree, or else watch a bird of prey as it circles high up in the air.
---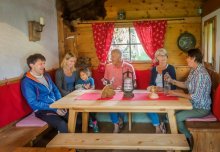 Cosy evenings can be spent in our idyllic summer arbour or in the lounge.
Also available: Unique farm atmosphere, sunbathing area, garden barbecue, children's playground and parking spaces.
Auf der Alm do gibt's koa Sünd
(Anything goes up in the mountain pastures!)
Room with double bed, ensuite shower and WC
Schlafen wie ein Stein
(Sleep like a log)
Room with double bed, washbasin in the room, shower and WC on the landing
Kleiner feiner Kaiserblick
(Small but perfectly formed view of the Kaisers)
Room with double bed, balcony, ensuite shower and WC
Platzhirsch sein Revier
(Top dog's turf)
Room with double bed, balcony, ensuite shower and WC