In the midst of rural life
At Petererhof Farm you will learn about life in the countryside as it used to be.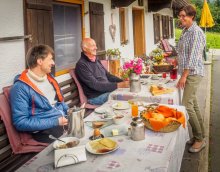 Twittering birds delight our guests, as if accompanying the healthy breakfast they're enjoying. At the same time, chickens cluck for all they're worth and the cat goes purring on its way, while the sheep frolic with their lambs in the meadows. And you are part of all of this.
---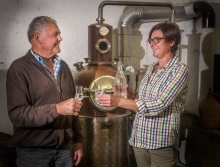 In the farm's own schnapps distillery, try a shot of the high-percentage liquor. Various kinds of schnapps, as well as hearty, home-cured bacon and eggs from our happy chickens are offered for sale.
Our farm dog, Molly, and the guinea pigs and rabbits are looking forward to being petted, and anyone who would like to, can pay a visit with us to the stable.