Holidays at any time of year
In the spring, summer and autumn, our farm is the ideal starting point for numerous walks. Keen swimmers will be able to cool off in the Ellmauer Kaiserbad swimming complex. Golf enthusiasts can tee off on the 27-hole "Wilder Kaiser" course.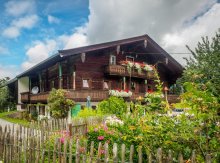 You will also find in Ellmau - the top tourist destination in the Wilder Kaiser - many other leisure attractions for children and adults alike, such as "Ellmi's World of Magic" or the "Kapellenpark", providing variety and relaxation during your holiday.